Exceptional Benefits of Dental Implants
Lost a tooth because of tooth decay or from a sports injury?
Don't want to smile because of a missing tooth?
Worry no more! Dental implant treatments will save the day! Turn your frown upside down and visit one of our dental locations for quality implants.
A dental implant is an oral care procedure that involves a surgical interface with the jawbone.  An orthodontic anchor with a porcelain or resin tooth replacement is surgically positioned onto your jaws beneath your gums.
Friendly Dental Group is committed to providing dental implants to patients who lost a tooth due to an accident, injury or tooth decay. Having a dental implant is one of the most advanced and comprehensive oral care treatment for missing teeth.
Dental implants are teeth-like replacements that are beneficial to your oral health. Here are the advantages of opting for a dental implant:
It helps you chew food, speak and smile with confidence;
It has lasting and exceptional results;
It fills the void of a missing tooth;
It prevents the jawbone from degenerating; and
It has a tooth-like appearance and functionality, hence, it truly is the next best thing to natural teeth.
Types and Techniques for Dental Implant
What kind of dental implant procedure should I opt for?
There are two main types of dental implants:
1. Endosteal
This is the most common type of implant. An endosteal dental implant involves the use of a titanium screw-like appliance that is anchored into the jawbone.
Endosteal Dental implants have 2 techniques:
a.  Single Dental Implant
The single dental implant is the most direct technique for supplementing a missing tooth. The implant is a complete tooth appliance from crown to root, which uses a solid metal post and a tooth-like crown that resembles your teeth appearance.
The metal post of the appliance is embedded into the jawbone that serves as a strong anchor for the tooth. Once the post is in place, a tooth-like porcelain or resin is attached to the metal post.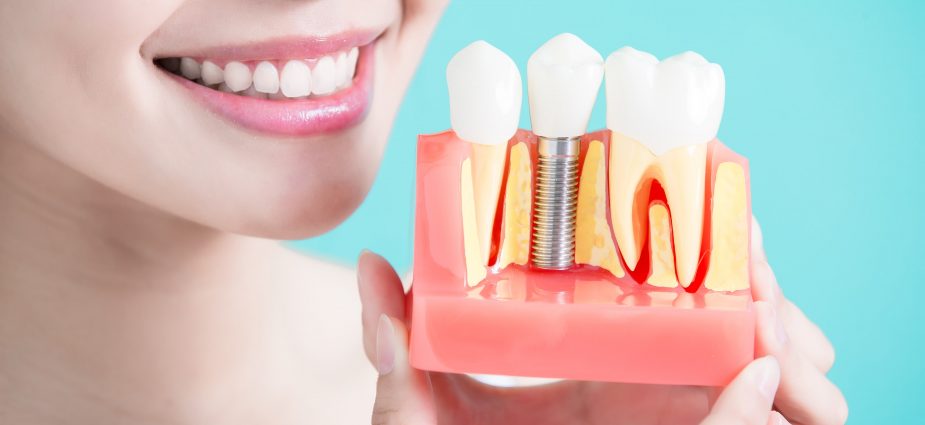 b. All-on-4 Dental Implant
The All-on-4 dental implant is the most advanced technique in replacing an entire arch of damaged or missing teeth. This approach uses a combination of implants and a bridge. The titanium implants are anchored onto the available bone within the patient's mouth.
A temporary prosthesis with a complete arch or set of teeth is attached to the titanium implants while waiting for the gums to heal and the implants to tightly fuse with the bone.  Once your gum has healed and the implants are in place, permanent teeth replacement will be attached to the titanium implants.
c. Subperiosteal
This type of implant uses a metal frame that is placed just above the jawbone beneath the gum tissues. A subperiosteal dental implant is recommended for patients whose jawbones have receded over time due to missing teeth.
The most common approach to subperiosteal dental implant is the mini-dental implants.  These are small dental implants that are less invasive.  These small implants make it easier for dentures to snap on and off.
Our dental practices offer dental solution for teeth replacement what will surely help you smile with confidence once again.
Are You Ready for a Dental Implant?
Is a dental implant the only solution for tooth loss?
There are a lot of dental options that can treat tooth loss. One of the many advanced dental approaches to treat a missing tooth is a dental implant.
If you tend to slur whenever you say something, or it seems like you have a lisp problem because of a missing tooth, a dental implant will fill the gap and help you improve your speech.  Our friendly and experienced dentists in Charlotte will discuss all possible dental implant options for your missing teeth.
Tired of dentures that keep falling off?
Friendly Dental Group will recommend the best dental implant technique that will brush your worries away. Dental implants are installed directly into your jaw bone or gum tissues, thus, there is no reason to be conscious about your teeth falling off when you speak, eat or laugh.
In addition, Friendly Dental Group has partnered with Oral Surgery Associates of Charlotte in providing quality bone grafting procedures for patients whose jawbone has become thin or soft or has degenerated over the years. Bone grafting is an oral surgery procedure that induces new bone formation.
Our Friendly Dental Group locations will thoroughly examine and evaluate your entire buccal cavity to ensure that the dental implant procedure, like any other oral surgery treatments, poses no health risks. Risks may include infection on the implant site, injury to surrounding structures, nerve damage, and sinus problems.
Once the dental implants are installed, patients are advised to practice excellent oral hygiene at home. Patients should also visit the dentist on a regular basis to ensure proper functioning of the implant, and avoid damaging habits like chewing hard candies, excessive smoking and teeth grinding.
Our dentists will work with you every step of the treatment to ensure a fast, safe, effective, comfortable and worry-free implant procedure.
Contact us at 1-866-764-5387 to learn more about dental implants!