Choosing The Best Emergency Dentist
Dental emergencies are issues involving the teeth, gums, jaw, and mouth that need immediate treatment. It may not necessarily involve any discomfort, but experiencing pain may be considered in some circumstances.

Dental practices prioritize emergency patients to relieve or minimize bleeding, swelling, pain or discomfort. Friendly Dental Group welcomes emergency patients in North and South Carolina with 20 plus dental locations.

Choosing the right Emergency dentist can help you save both time and resources while ensuring that you and your loved ones receive the best dental care in case of an emergency. Friendly Dental Group has some of the best emergency dentists in Charlotte, with both the skills and experience to give you that perfect smile.


Below are the top 5 factors to consider when choosing an emergency dentist:
#1 The Reputation Of The Dentist
Visiting a dentist that you can trust is the best way to relieve any pain or discomfort in emergency cases.  One way to ensure that you are visiting the right dentist is to check his or her reviews on Facebook, Yelp, Google and other online platforms.

Choosing a dentist with an excellent reputation in dentistry ensures that you will receive the best oral care treatment for your emergency needs.  Friendly Dental Group provides exceptional oral care services in general, cosmetic, pediatric and preventive dentistry.

We have been awarded the Charlotte Magazine BOB Awards 2018 for giving the best dental options in Charlotte, NC.

With great customer reviews, our dentists are committed to offering you great dental care.
#2 Wait Times and Accessibility
Choosing a dental practice with a real-time dental scheduling platform and an emergency dentist that won't keep you waiting when your visit is very crucial.  Friendly Dental Group uses LocalMed that caters to real-time scheduling and is proven helpful for patients with emergency dental needs.

Timely treatment can help avert future dental infections. A patient suffering from a periodontal disease which may lead to tooth loss is not treated immediately, should be attended to by a dentist in a timely manner.

How readily available is your emergency dentist?

An emergency dental practice which operates within a broad range of hours ensures that you will always receive fast treatment when it counts the most. Knowing the working hours or schedule of your dentist can help you choose the best emergency dental practice in Charlotte.

At Friendly Dental Group, we use LocalMed that accurately displays the available schedule, treatment, and dentist. We use a real-time dental scheduling platform for an immediate and convenient way of getting an appointment for your entire family.
#3 Quality Of Care And Facilities
The best way to maintain good oral health is choosing the right dentist for both emergency and regular dental checkups or treatment. You should also consider asking friends and family before visiting a dental office. 

Standard care facilities are indispensable for any dental practice. Friendly Dental Group has advanced equipment and facilities which ensures high quality of treatment for both regular and emergency cases.  

Friendly Dental Group promotes a fun and friendly environment for kids to feel anxious-free.  Our professional team of dentists and staff will give your children the smile they deserve.

Our Endodontists use advanced technology equipment to ensure that the procedures are fast, safe and comfortable.  At Friendly Dental Group, patient comfort is our top priority!

Maintain your perfect smile with exceptional primary dental care by our team of trusted family dentists.  We offer cleanings and cavity checks, fillings and many more to make sure your teeth, gums, and mouth are in excellent health.

Friendly Dental Group is an Invisalign preferred provider.  We offer the quality orthodontic and cosmetic dental treatments in Charlotte, NC to help restore and maintain the best oral health that you deserve.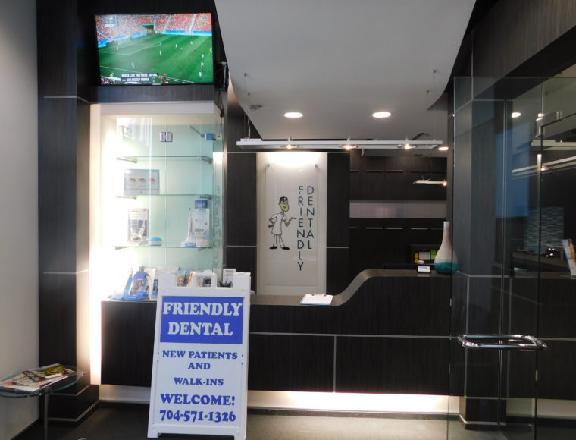 Friendly Dental Group of South Park offers a vast variety of dental services. Being a certified premier Invisalign provider, we offer top-of-the-line Invisalign treatments.

We have partnered with Oral Surgery Associates of Charlotte to bring you natural-looking and fully functional permanent implants.  They offer top-notch oral and maxillofacial surgical procedures in Charlotte, NC and neighboring communities.

Our dentists are highly-skilled and experienced to provide quality dental options that you deserve.  All of our dental providers take the time to update their practice with the most recent trends, procedures and dental options through continuous education, seminars, conventions, and training.

At Friendly Dental Group, you and your oral health are important to us!
#4 Affordability
Dental emergency costs vary on the dental option or procedure involved.  More intricate dental treatments tend to be more expensive than simple procedures.  

Friendly Dental Group offers quality emergency dental services at guaranteed low prices.  We provide exceptional yet affordable dental options for you and your loved ones.   

Friendly Dental Group offers VIP discount plan to patients who do not have dental plans or who are tired of paying high premiums. This discount plan provides coverage at all Friendly Dental Group locations and makes our services affordable and budget friendly.

Friendly Dental Group accepts most major credit cards. We allow patients to use their Flexible Spending Account (FSA) or Health Savings Account (HSA) when paying for their dental treatment.

We also accept most dental plans and file insurance claims as a convenience to you.
#5 Proximity to Your Home
How far away do you live from your emergency dentist?

Friendly Dental Group provides the best dental treatment and consultation for your emergency needs. Whenever you need emergency dental care, visit a Friendly Dental Group practice location near you!

With over 20 locations in Charlotte, NC, Friendly Dental Group is your go-to dental practice for the best emergency dental care. Our emergency dentists will put back the smile you deserve on your face in a timely manner.

Visit any of our locations near you.  Contact us at 866-764-5387 to book your appointment and experience quality dental services of our skillful and compassionate emergency dentists.